Heet-O-Matic®
Match-mated immersion Heater w/ thermostat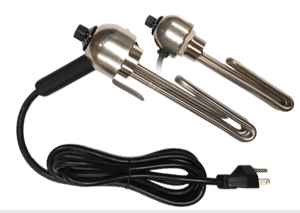 Heet-O-matic® Immersion Heaters
Provides an easy solution to heating laboratory liquids, and sterilization methods. Provided with threaded mounting options or over the side hangers.
Rating:
115 or 230V.A.C. (500w, 1100w, or 1500w)
Temp Range: 120°F-190°F

Additional Info:
Differential: ± 1°F in a circulated bath.


Heet-O-matic® immersion heaters
Our over the side immersion heaters are designed to provide an easy solution for those seeking a controlled heat source for quick sterilization in laboratories, as well as a control method for general lab liquids. We offer some with threaded collars for threaded installation while others simply hang over the edge.
FEATURES
Probe, heater element sheath, and switch cover material: Polished Type 316 stainless steel.

Sensitive thermal probe protected against mechanical damage.

"Pilot light" indicator shows "ON" when unit is heating.

Supplied with a standard length 6' 3-wire cord set.

Rating 500W. or 1100W. or 1500W. at 115 or 230 V.A.C.

Differential: ± 1°F in a circulated bath.
Please Note
Maintain liquid levels so that heating elements are fully submerged at all times.


1 inch from the top of models: 305 & 306
2 inches from the top of model: 335
4 inches from the top of model: 324

Adjustment knob is set with the "off" position at room temp.
Circulation of tank liquid is recommended for even heat distribution

Not all liquids are compatible with heating elements, if you are unsure please contact us.
For complete instructions please click here to download
Model #
Classification
Element Configuration
Available Wattage
Adjustable
Mounting
Drawing
305
Screw Plug Immersion Heater
Vertical
500W
1100W
1500W
Yes
Threads
*.DWG
305MP
Screw Plug Immersion Heater
MP = Moisture Proof
Vertical
500W
1100W
1500W
Yes
Threads
*.DWG
306
Over Side Immersion Heater
Vertical
500W
1100W
1500W
Yes
Over the side
*.DWG
324
Over Side Immersion Heater
Vertical w/ Circular Base
500W

Yes
Over the side
*.DWG
335
Over Side Immersion Heater
Vertical w/ Horizontal Base
500W

Yes
Over the side
*.DWG
560
Custom Immersion Heater
Waterproof Enclosure
Vertical
1100W (5.5"(in) element)
1500W (7"(in) element)
Yes
Threads
N/A