Heet-O-Matic®
Match-mated immersion Heater w/ thermostat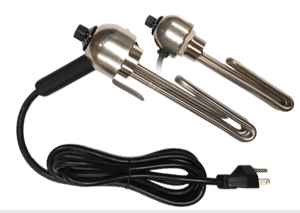 Heet-O-matic® Immersion Heaters
Provides an easy solution to heating laboratory liquids, and sterilization methods. Provided with threaded mounting options or over the side hangers.
Rating:
115 or 230V.A.C. (500w, 1100w, or 1500w)
Temp Range: 120°F-190°F

Additional Info:
Differential: ± 1°F in a circulated bath.


Heet-O-matic® immersion heaters
Our over the side immersion heaters are designed to provide an easy solution for those seeking a controlled heat source for quick sterilization in laboratories, as well as a control method for general lab liquids. We offer some with threaded collars for threaded installation while others simply hang over the edge with a simple hook as shown on the left hand image.
FEATURES
Probe, heater element sheath, and switch cover material: Polished Type 316 stainless steel.

Sensitive thermal probe protected against mechanical damage.

"Pilot light" indicator shows "ON" when unit is heating.

Supplied with a standard length 6' 3-wire cord set.

Rating 500W. or 1100W. or 1500W. at 115 or 230 V.A.C.

Differential: ± 1°F in a circulated bath.
Various element lengths available based upon wattage requirement
Please Note
Maintain liquid levels so that heating elements are fully submerged at all times.


1 inch from the top of models: 305 & 306
2 inches from the top of model: 335
4 inches from the top of model: 324

Adjustment knob is set with the "off" position at room temp.
Circulation of tank liquid is recommended for even heat distribution

Differential: ± 1°F in a circulated bath.
Not all liquids are compatible with heating elements, if you are unsure please contact us.
For complete instructions please click here to download
Model #
Classification
Element Configuration
Available Wattage
Adjustable
Mounting
Drawing
305
Screw Plug Immersion Heater
Vertical
500W
1100W
1500W
Yes
Threads
*.DWG
305MP
Screw Plug Immersion Heater
MP = Moisture Proof
Vertical
500W
1100W
1500W
Yes
Threads
*.DWG
306
Over Side Immersion Heater
Vertical
500W
1100W
1500W
Yes
Over the side
*.DWG
324
Over Side Immersion Heater
Vertical w/ Circular Base
500W

Yes
Over the side
*.DWG
335
Over Side Immersion Heater
Vertical w/ Horizontal Base
500W

Yes
Over the side
*.DWG
560
Custom Immersion Heater
Waterproof Enclosure
Vertical
1100W (5.5"(in) element)
1500W (7"(in) element)
Yes
Threads
N/A